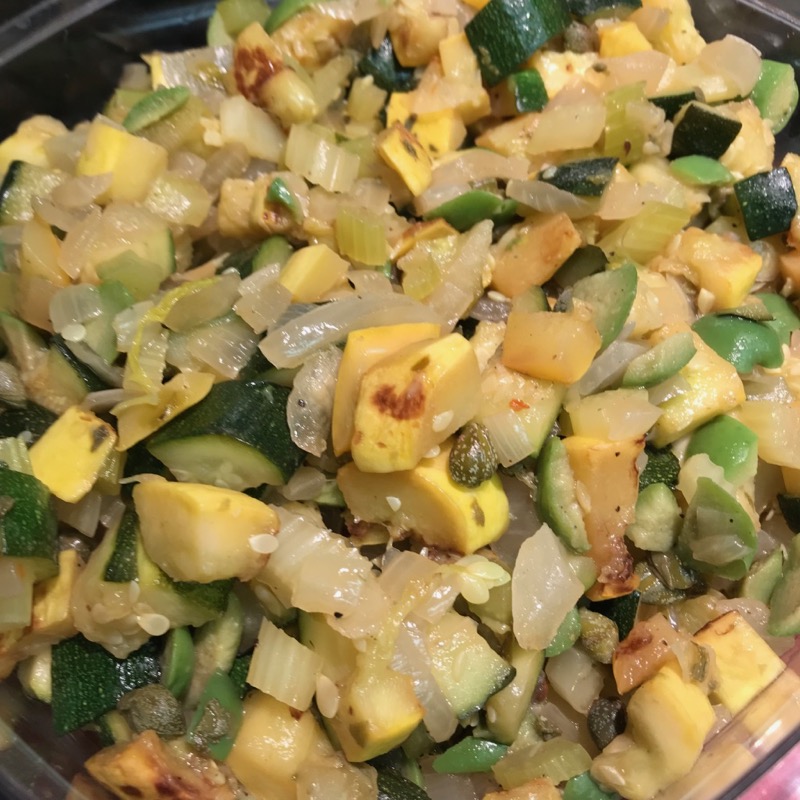 While I admit that the above photo of the vegetable melange doesn't look at all like the one on the New York Times website, this is still a great summer vegetable-based dish, the kind we're all supposed to be making these days.  I incorporated some of the suggestions from the commenters on that website, but generally, it was a pretty straight forward, chop-up-the-vegetables, juicy, sort of dish.
Ingredients
Extra-virgin olive oil
1 ½ pounds medium green zucchini, cut into 3/4-inch cubes
Kosher salt and black pepper
1 ½ pounds yellow summer squash, cut into 3/4-inch cubes
1 large onion, diced (about 1 1/2 cups)
6 celery stalks, diced (about 1 cup)
Pinch of red-pepper flakes
1 tablespoon granulated sugar
3 tablespoons red wine vinegar
2 tablespoons medium capers, rinsed, soaked in cold water for 10 minutes and drained
24 green olives, such as Castelvetrano or Cerignola
Optional Garnishes:
6 hard-boiled eggs (9-minute)
Italian parsley leaves
Basil leaves
Green olives
Can be served with 12 (1/2-inch) slices Italian or French bread, toasted.  However, since we are from Southern California, I cooked up some tortillas in a pan (the heat-and-serve kind), and served this caponata in a tortilla, topped with chunks of rotisserie chicken.
Preparation
Pour a glop of olive oil into a large, wide skillet over medium-high heat. When oil is hot, add the chopped onion.  Cook the onions over medium-high heat, stirring, until softened, 5 to 7 minutes. Add celery and cook for 2 to 3 minutes more. Season with salt and pepper and transfer onion mixture to a large bowl.
Sprinkle the pinch of red-pepper flakes over the onions, then the green olives (I had to take the pits out, so they were in chunks); set aside.
[NOTE: if you are going to use the green olives for a garnish at the end, don't add them now.]
Add another pool of olive oil (roughly 2-3 Tbs) in the hot pan, and add enough zucchini to cover the bottom of the pan.  (Note: my pan had gently sloped sides, so I pushed the zucchini up the sides of the pan, too.  I was able to fit all of the 1 1/2 cups into one batch, but if you can't, please divide into two batches.)  Season lightly with salt and pepper, letting zucchini sizzle and brown slightly. Cook, stirring, until softened, about 5 minutes. Remove to a large bowl.
Continue cooking zucchini and summer squash in batches, adding oil to the pan as necessary, then transferring cooked vegetable to the large bowl.
When all the vegetables are cooked, add, sugar, vinegar and capers. Toss gently together. Taste and adjust, making sure the seasoning is bright, with a balanced sweet-sour flavor. Leave for 10 to 15 minutes and taste again. (If time permits, let the flavors marry for an hour or more before serving. The caponata may be refrigerated for up to 2 days; bring to room temperature to serve.)
We served ours from a bowl, filling our tortillas, but to do it the original way: transfer mixture to a large platter. Top with olives and hard-cooked eggs, halved or quartered. Garnish with parsley and basil.