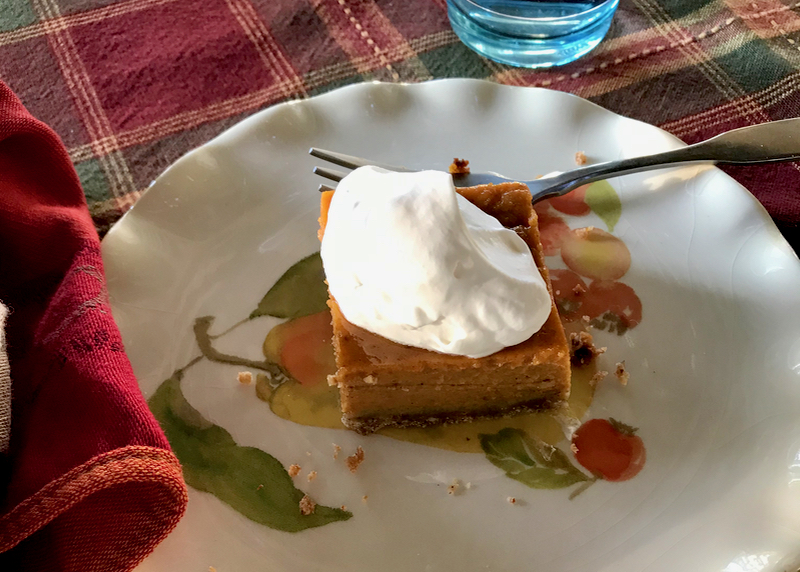 I served this to my pumpkin-pie-loving son Peter, a bit nervous to see if this new version — with a shortbread crust — would pass muster. It did, and it will be a long time before I go back to the other pie crust.
Prepare Pan:
Lightly butter/grease the bottom of a 9″ square metal cake pan. Using a longer length of parchment paper, line the pan so there is an overhang of paper on two sides of the pan (to facilitate the easy release and removal of the bars after baking).
Preheat oven to 400 degrees F.
Crust: Into the bowl of a food processor, place 2/3 cup whole pecans. Pulse a couple of times to break them up.
Add:
⅓ cup light brown sugar
1 cup all-purpose flour
Pinch of salt
Pulse a few times to further chop the pecans and to blend.
Cut 6 Tablespoons of stick butter into smaller pieces, distribute around the flour mixture in food processor bowl. Pulse until butter is smaller than pea size. It will be loose in texture. Dump into the prepared pan, and with the back of a spatula, press into pan evenly. Bake for about 12-15 minutes, but do not let it burn. Remove from oven.
Turn oven down to 350 degrees F.
Filling (can be made while crust is cooking):
Mix together dry ingredients in a small bowl:
3/4 cup granulated sugar
1 teaspoon ground cinnamon
1/2 teaspoon ground ginger
1/4 teaspoon ground cloves
dash of nutmeg
½ teaspoon salt
Into separate, large mixing bowl, blend:
15 oz. can pumpkin puree
2 large eggs, yokes broken
Add in dry ingredients (sugar and spices). When blended, add in 1 12-ounce can light evaporated milk (see notes below). Carefully pour over prepared crust.
Place in 350 degree F oven, and bake for about 55 – 60 minutes, or until knife inserted about 1-1/2″ from the center comes out clean.
Let cool on rack to room temperature, then place in refrigerator to chill for at least 2 hours. When ready to serve, gently loosen edge of crust from pan, then lift out and place on cutting board. Cut into 16 pieces.
Serve with a dollop of whipped cream, to which 1/2 teaspoon vanilla and 1/4 cup of powdered sugar has been added before beating it into soft peaks.
Note: Instead of light condensed milk, regular condensed milk may be used. The original recipe called for 1 cup half-and-half along with 1 Tablespoon cornstarch, a shake of pepper and 1 teaspoon vanilla. I just went with the regular Libby's pumpkin pie recipe, and it worked just fine.