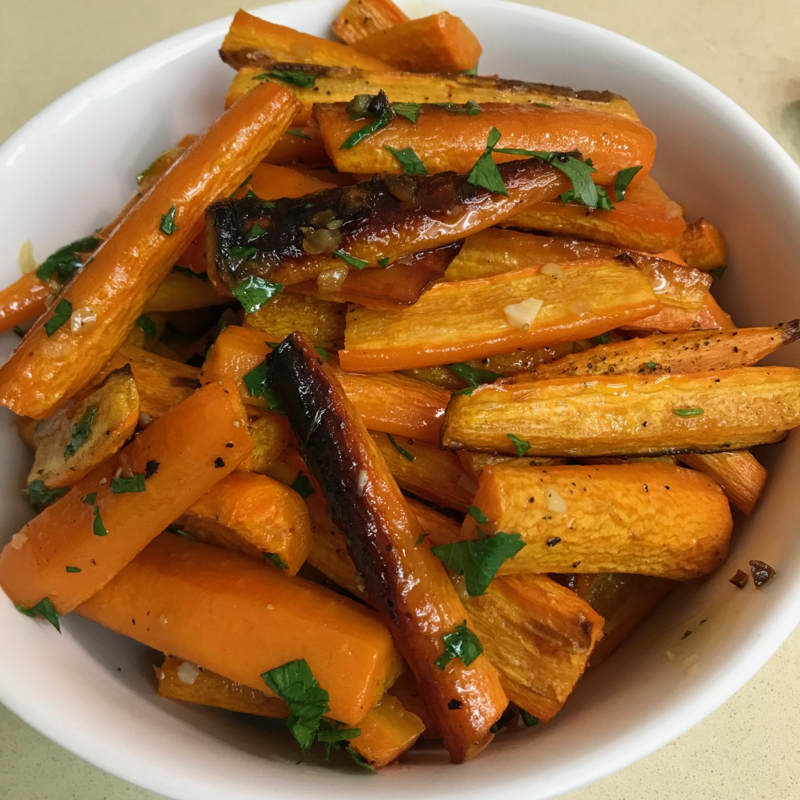 Ingredients
2 pounds carrots washed and peeled
1/3 cup butter
2 Tablespoons olive oil
3 tablespoons honey
3 garlic cloves minced
Salt
Freshly-cracked black pepper
2 tablespoons fresh chopped parsley
Instructions
Preheat oven to 425°F (220°C). Lightly grease a large baking sheet with nonstick cooking oil spray; set aside. (If you choose to line the pan with foil, it may stick, so be generous with your cooking spray.)
Trim ends of carrots and cut into thirds. If the end of the carrot is thick, cut in half lengthwise, so that all carrots are about the same size. Place into large bowl.
Melt butter in a pan or skillet over medium-heat. Pour in honey, oil, garlic and cook while stirring, until garlic is fragrant.
Pour over the carrots, tossing so the carrots are well coated. Transfer carrots to baking sheet, and arrange into a single layer so they cook evenly. Season with salt and pepper. Roast for 20 minutes, or until carrots are fork-tender. Sprinkle with fresh parsley before serving.
Optional: Broil for 2-3 minutes on high heat to crisp/char the edges. (I did not do this.)