The name of this potato comes from the Stockholm restaurant where it was first served: Hasselbacken. I used a giant russet potato, but I think this might be better with a Yukon Gold or other medium-sized thin-skinned potato.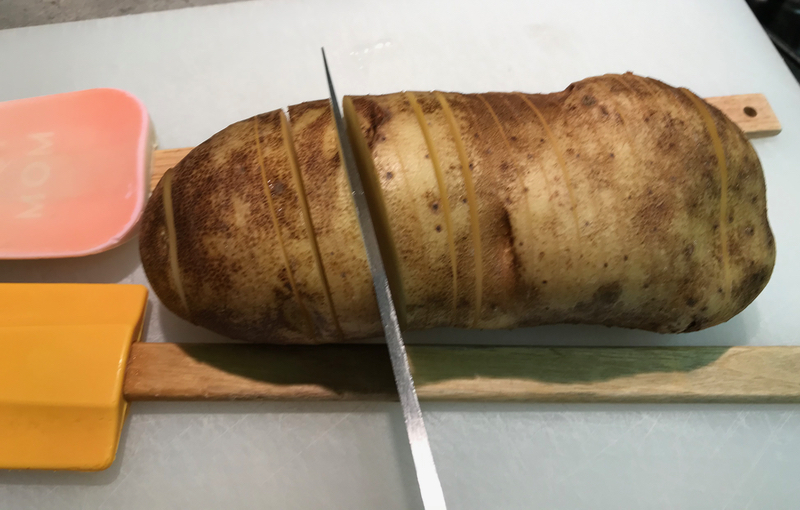 Tip for cutting: Lay two wood-handled spatulas/spoons on either side of the potato, and slice the potato crosswise at 1/8″ intervals, cutting to within 1/4″ of the bottom.
Ingredients:
4 medium potatoes, scrubbed; leave skin on
4 cloves of garlic, minced
3 Tablespoons olive oil
kosher salt
1/8 to 1/4 teaspoon smoked paprika
2 Tablespoon grated Parmesan cheese
Preheat oven to 425 degrees F.
Scrub potatoes, then cut as shown above in the photo, making sure not to cut through the bottom of the potato, as it will fan out a bit as it bakes.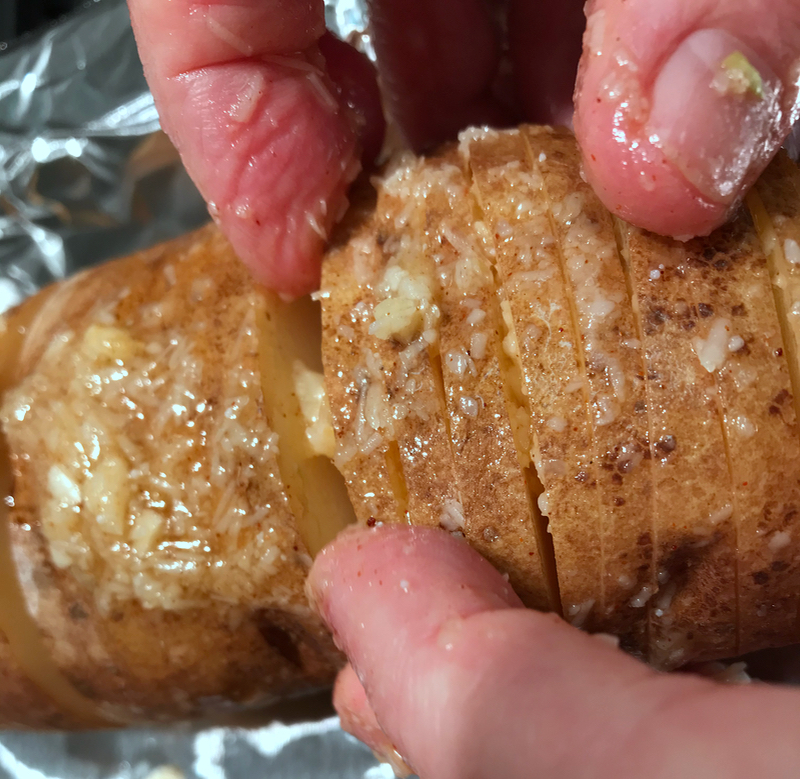 Combine olive oil, garlic, 1/2 teaspoon kosher salt, smoked paprika and parmesan cheese in a small bowl. Mix well. Lay the potatoes on a baking sheet (can line with foil, if desired). Spoon some of the mixture over the top of the potato, then carefully insert pinches of the mixture in between the slits of the potatoes. Rub the outside with any leftover mixture, or if needed, a bit more olive oil.
Bake for 40-45 minutes, or until the inside is cooked through and the outside of the potato is a bit crispy. If olive oil pools in the pan, it's possible to baste the potatoes with this one time, to assist in crisping. Garnish with additional parmesan and chopped chives.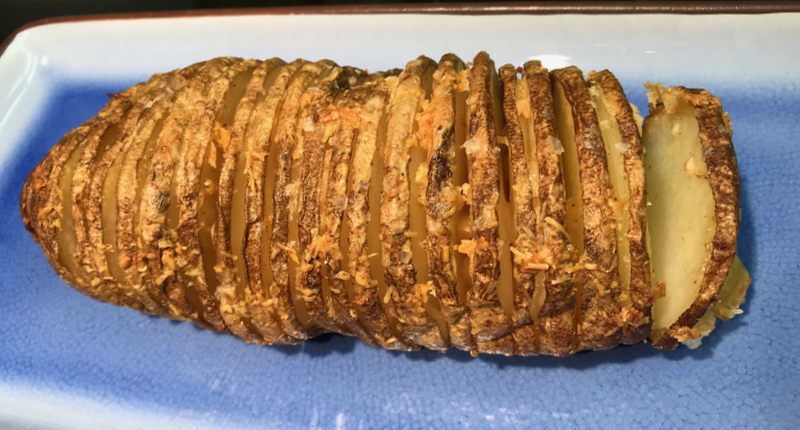 Note: the giant russets took forever to cook, nearly 90 minutes, and the flavor is earthy (not buttery like the Yukons), so I won't use them again.