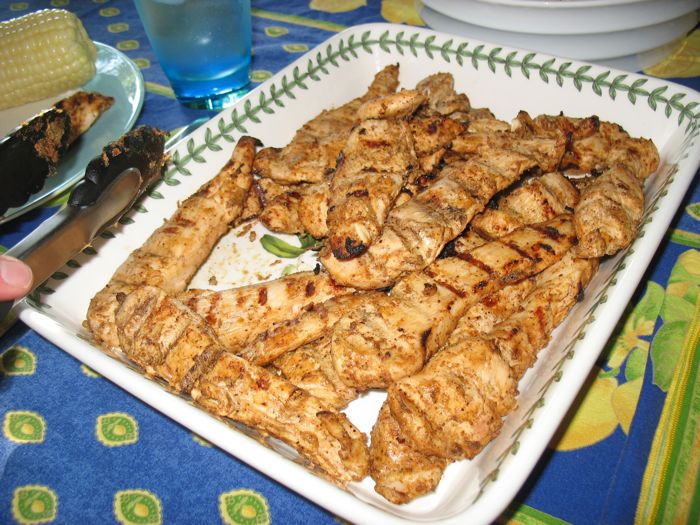 Sometimes I'll got looking on the Epicurious website for quick recipes that are flavorful.  This is one of them, originally published in Gourmet magazine in August 2004.  I was trying to find another marinated chicken, one I'd made before, but couldn't.  This one is just as good as the other that is now lost forever to the vagaries of the internet.  But it is quick: just whisk together the marinade, then while the chicken is marinating, stir up the yogurt-sauce topping and the mint "salad."  Yep, I thought it was a strange name too–it's really just a garnish for the chicken.  See the Memorial Day Barbecue post for how the whole thing looks with the sauce and the garnish on top.
Active time: 15 min Start to finish: 35 min
Yield: Makes 6 servings
Ingredients
2 cups plain yogurt (16 oz; preferably whole-milk–I used the thicker Greek yogurt and it was delicious)
3 tablespoons olive oil
2 1/2 tablespoons fresh lemon juice
2 teaspoons salt
2 teaspoons chili powder
3/4 teaspoon ground cumin
3/4 teaspoon ground coriander
3/4 teaspoon black pepper
1/4 teaspoon cinnamon
shake of cayenne pepper
6 skinless boneless chicken breast halves (2 1/4 to 2 1/2 lb total)
1 cup small fresh mint leaves
2 tablespoons minced shallot
Preparation
Whisk together 1 cup yogurt, 2 tablespoons oil, 1 tablespoon lemon juice, salt, and spices, then add chicken and turn until coated well. Marinate at room temperature 20 minutes.
While chicken is marinating, prepare grill for cooking. If using a charcoal grill, open vents on bottom of grill, then light charcoal. Charcoal fire is medium-hot when you can hold your hand 5 inches above rack for 3 to 4 seconds. If using a gas grill, preheat burners on high, covered, 10 minutes, then reduce heat to moderate.
While grill is heating, whisk together remaining 1 cup yogurt and 1 1/2 tablespoons lemon juice and salt to taste.  (I was like, yeah–how do I know how this is supposed to taste like?  But I just added some salt, and tasted it, then added some more.  You really can figure it out–it's a balance.)
Grill chicken (discard marinade), covered only if using gas grill, on lightly oiled grill rack, turning over occasionally, until just cooked through, 10 to 12 minutes total. Transfer chicken to a platter.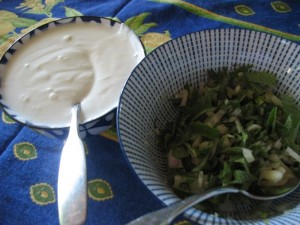 Toss together mint, shallot, and remaining tablespoon oil in a small bowl. Drizzle chicken with yogurt sauce and top with mint "salad."  Toppings are shown to the left.
Cooks' note:
If you aren't able to grill outdoors, chicken can be cooked in a hot lightly oiled well-seasoned large ridged grill pan over moderate heat.