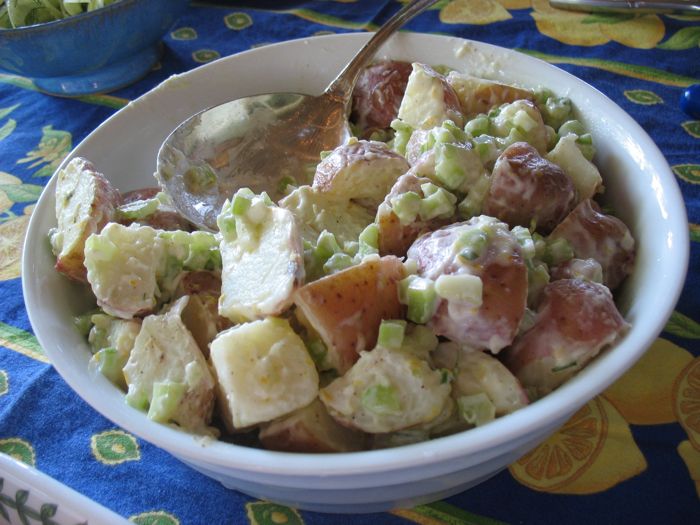 Sometimes before I have to start cooking dinner, I'll lazily browse through the website Epicurious.com, as it's easier than browsing through all my Gourmet cookbooks, and the website has pictures.  This recipe is credited to an Ian Knauer, first published in Gourmet in July 2009.
I'd tucked this recipe away, saving it for a day I was intent on barbecuing–thinking it would be a nice addition to a summer meal.  The only thing I have to say about this is it takes more salt to balance the flavors than you think.  I'd also put the salt shaker on the table, even though we're not supposed to in this day and age. I'd also cut back on the chopped celery to 3/4 cup.  A bit too much, if you ask me.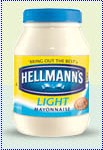 The flavor of this is light–not heavy–made even lighter by the use of Light Mayonnaise (NOT the Low-fat variety–ick!), although I'm sure that's sacrilegious in some households (Dad?).  If you decide to go this way, look for the blue lid and blue label.  It's tastes pretty close to the original, with less of the nasty stuff.
Yield: Makes 8 servings
Active Time: 15 min, Total Time: 45 min
Ingredients
3 pounds small boiling potatoes
1 cup chopped celery (about 4 ribs–again, I'd use only 3 ribs)
1/2 cup mayonnaise
1/4 cup finely chopped chives
1 teaspoon grated lemon zest
2 tablespoons fresh lemon juice
1 teaspoon sugar
1 teaspoon salt
3/4 teaspoon pepper
Preparation
Cover potatoes with water in a large pot and season well with salt. Bring to a boil, then simmer until tender, 12 to 20 minutes.  While potatoes cook, stir together celery, mayonnaise, chives, lemon zest and juice, sugar, salt, and pepper in a large bowl.  Drain potatoes and cool completely, then halve or quarter. Add to dressing and toss to coat.
NOTE: I chunked up the potatoes before I cooked them, cutting them into pieces as shown above in the photo.  The trick to not having your potatoes fall apart, I think, is not BOILING them at a full boil overly long. Just SIMMER them, barely bubbling.  Mine cooked in about 12 minutes after they came to a boil; yours may take longer.
Gourmet says that the potato salad can be made 1 day ahead and chilled. Bring to room temperature before serving.  (Just be cautious about leaving out the mayo-based food for too long; food poisoning, you know.)