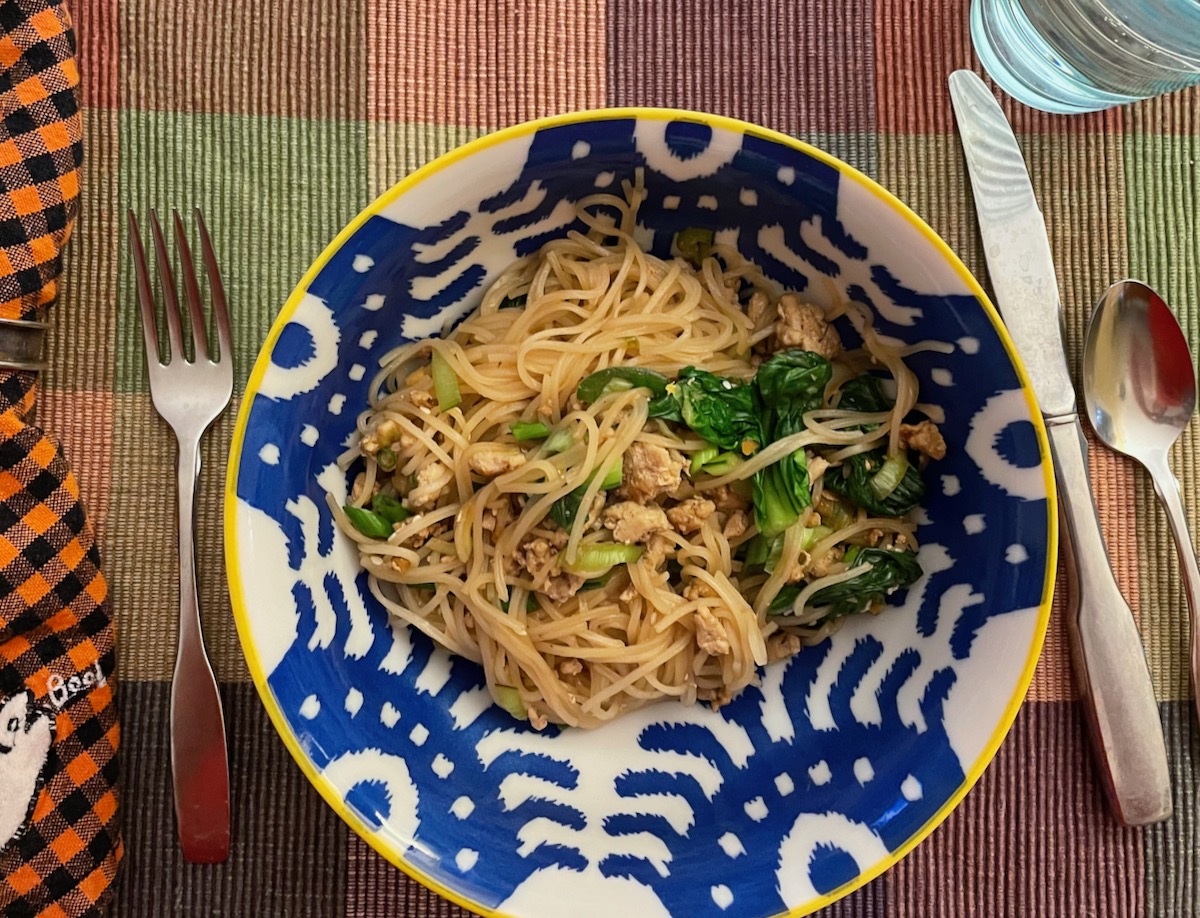 This recipe, by New York Times writer Melissa Clark, reminds us of going for dumplings; however, the shop is quite far from our home so this will have to suffice. I didn't have any black vinegar for the final topping, so truthfully, I just left it off. In her notes, Ms. Clark says balsamic can be a substitution, although it is a bit sweeter.
INGREDIENTS:
12 ounces baby bok choy (3 or 4 small heads)
1 ounce ginger root (1 fat 2-inch- thick knob)
Kosher salt
8 ounces rice noodles, not too thin
2 tablespoons peanut or safflower oil
1 pound lean ground pork
1⁄4 cup plus 1 1/2 tablespoons soy sauce
2 tablespoons rice wine vinegar
1⁄2 cup thinly sliced scallions
3 garlic cloves, finely chopped
1 fresh Thai or habanero chile, seeded if desired, thinly sliced
2 tablespoons toasted sesame seeds
1 1⁄2 teaspoons sesame oil, more for drizzling
Cilantro or torn basil, for serving Black vinegar, for serving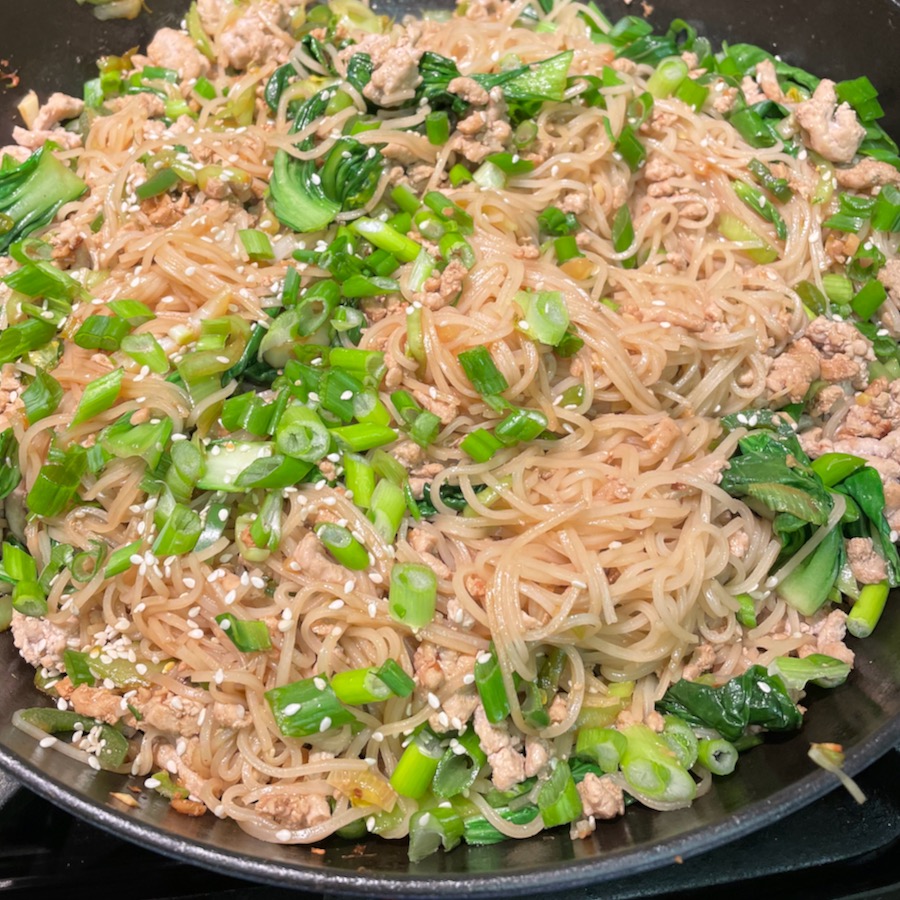 PREPARATION:
Step 1 • Trim bok choy and separate dark green tops from white stems; leave tops whole and thinly slice stems. Peel ginger and finely chop half of it. Slice remaining ginger into thin matchsticks if using vinegar garnish.
Step 2 • Bring a large pot of salted water to a boil. Add noodles and cook according to package instructions. Drain and run under cool water; drain again.
Step 3 • Heat 1 tablespoon peanut oil in a large skillet over medium-high heat. Add pork and cook, breaking up with a fork, until golden and cooked through, about 10 minutes. Season with salt, 1 1/2 tablespoons soy sauce and 1/2 tablespoon rice wine vinegar. Use a slotted spoon to transfer meat to a bowl.
Step 4 • Add remaining 1 tablespoon oil to skillet. Stir in half the scallions, the finely chopped ginger, the garlic and the chile. Cook until fragrant, about 1 minute. Add bok choy stems and a pinch of salt. Cook until bok choy is almost tender, about 2 minutes. Toss in leaves and return pork to skillet.
Step 5 • Toss noodles, remaining 1/4 cup soy sauce and 1 1/2 tablespoons rice vinegar into the pan. Cook until just warmed through.
Step 6 • Transfer to a large bowl and toss with remaining scallions, sesame seeds, sesame oil and herbs.
Optional: In a small bowl, combine ginger matchsticks with just enough black vinegar to cover. Serve ginger mixture alongside noodles as a garnish.